Bridging Traditional and Alternative Data with AltIndex's New Earnings Data
October 31, 9:33 am
At AltIndex, we are committed to empowering our users with robust insights to catalyze informed investment decisions. The axiom, 'Knowledge is Power,' is the cornerstone of our ethos, especially in the realm of investment where data drives decisions. Our foundation was laid on the bedrock of alternative data insights, harnessing unconventional metrics such as a company's job postings, app downloads, social media following, web traffic, patent applications, and employee business outlook. These data points can serve as leading indicators of a company's future trajectory, both upwards and downwards.
Our conviction has always been that alternative data is a treasure trove waiting to be unearthed in the investment landscape. However, we acknowledge that alternative data alone isn't the oracle for investment foresight. It's the amalgamation of alternative and traditional data that weaves a more wholesome narrative around a company's financial posture. Hence, we are thrilled to announce a significant enhancement to our platform - the integration of earnings data on our stock pages.
Beginning today, every stock page on AltIndex will feature a comprehensive array of earnings data, providing a window into the financial health of companies. This new feature will unveil a spectrum of financial metrics including revenue, net income, EBITDA (Earnings Before Interest, Taxes, Depreciation, and Amortization), and cash flow tracked over time. But that's not all. Our users will now have the facility to compare these crucial figures against competitors and similar stocks with just a single click.
This blend of alternative data insights and traditional financial metrics aims to furnish our users with a more 360-degree view of a company's financial landscape. The comparison of a company's digital footprint alongside its earnings data can unravel nuanced investment narratives, driving more nuanced and strategic investment decisions.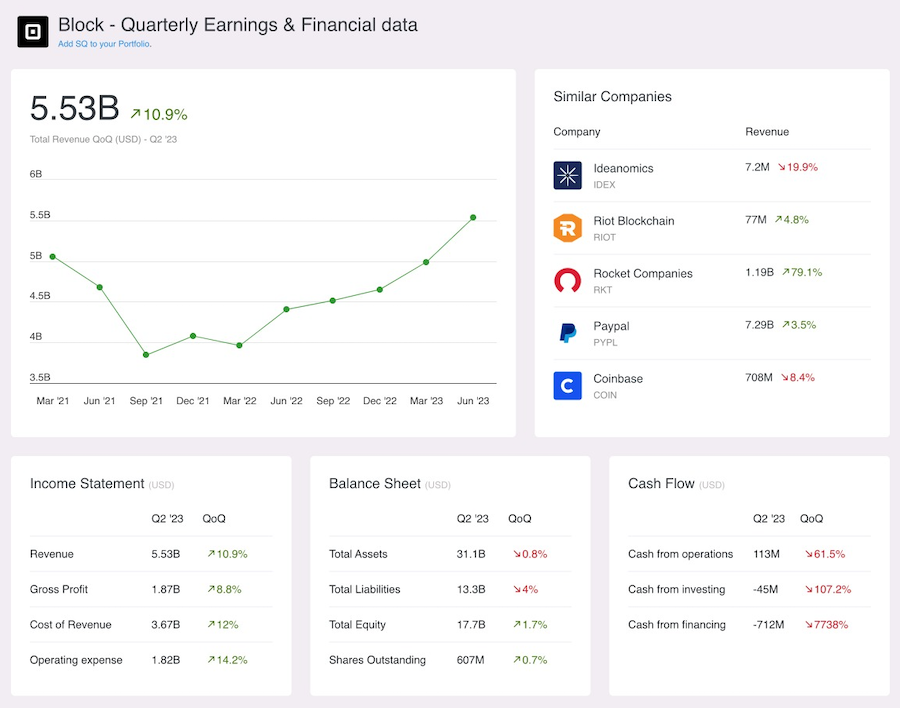 Screenshot of Block's earnings data
At AltIndex, we continually strive to augment our platform's capabilities, ensuring our users are always a step ahead in the dynamic investment arena and we hope and believe that the convergence of alternative data and traditional financial metrics will pave the way for more successful and informed investments.
Dive into this new feature on AltIndex today, and elevate your investment analysis to a new pinnacle of insight and clarity. Your journey towards making more informed and triumphant investment decisions just got a significant boost. Welcome to a new era of investment analysis, where every piece of data counts.